I currently do one infant (0-9 months) and three baby (10-23 months) storytimes each week. I make a dedicated effort to not repeat my storytime books often, since some caregivers are with me for a full two years. However, I usually have a week of "favorites" each session. I also like to keep a stack of proven successful books for when my storytime groups are having a rough morning.
These are my go-to books that I read to caregivers and children during baby storytime. We also do choral reading each week, but that will be a different post! Check out what
my traditional infant and baby storytimes look like here.
5. The Baby Goes Beep
by Rebecca O'Connell
Do I love this book for its sing-song rhythm? How you can act out a motion on every page? That it's a book about babies? All of the above. This book is so wonderful to use in storytimes. Bonus points if you hand out paper plates for babies to "drive" with.
4. A Kiss Means I Love You
by Kathryn Madeline Allen
I found this jewel using
Abby The Librarian's
amazing baby storytime lists. This has quickly become one of my favorite picture books. Showing full page pictures with a short line of text, it is the perfect supplement to any baby storytime. Also, DIVERSITY on every page!
3. Hurry! Hurry!
by Eve Bunting
This book provides great opportunity for animal noises. You follow a mama chicken throughout the farm as she encourages everyone to hurry. The surprise ending is that they're all hurrying to see a baby chick hatching. This book always gets the "awww" noise from caregivers and is one of the most requested storytime books. The clean, uncluttered pictures are perfect for little ones.
2. Charlie Chick
by Nick Denchfield
Everyone loves pop-ups. This is my favorite pop-up of all time. They FINALLY reissued this book last year so everyone needs to go order it immediately before it goes out of print. Before the reissue, I easily would have paid $50 for this book. It's that fabulous. It's extremely short and the pictures use a lot of white space, which is perfect for baby storytimes.
1. Clip Clop
by Nicola Smee
My favorite storytime rhyme is
"Giddy-up Giddy-up"
, so it makes sense that this would be my favorite storytime book. There are animal noises to be made on every page, as well as a refrain for caregivers and children to bounce along with. I always have an amazing storytime when I pull this one out of the storytime closet.
ALL TIME GREATEST
Brown Bear, Brown Bear
by Bill Martin Jr.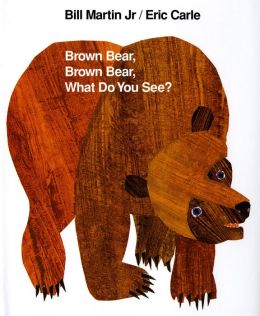 I didn't include this one in the top 5 because I think it's doing the book an injustice. If I could only have one book for storytime for the next 5 years, I would pick this book. (Please, don't only read this book every week.) You can talk about animals, colors, animal noises, sing it, chant it, or even dance around to it. You can even read this book with shaky eggs. If you haven't yet, buy a copy of this for your storytime shelf immediately. When my groups are getting crazy this book seems to have an instant calming effect. It is the best of all time.